ЧаВо - Часто Задаваемые Вопросы
Phone Number: Protect my phone number from spammers & bots
Protect my phone number from spammers & bots
You get spamm calls? Or Robot Calls?
Here are some of the options you can use to try and stop it.
1.
Make sure your phone number on your ad is not listed.
Click this here option.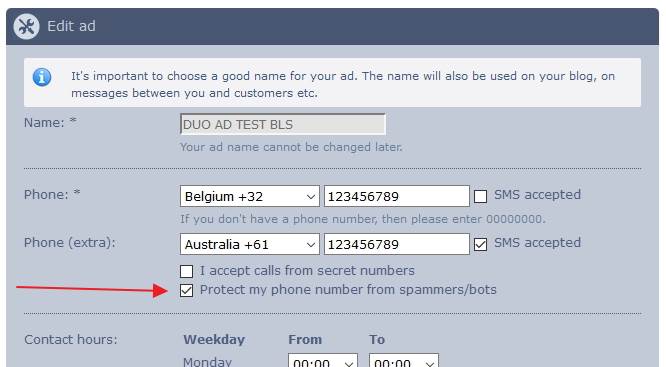 (remember if your ad was ever online without this option or you are listed on other websites where your number is not hidden, your number may already be in the spammers lists, then you have to do option 2 and 3 below also.)
Then your ad will now look like this (example)

And for visitors to see your number they must complete a security code system provided by google. (example)

2.
Call your phone company and report it. Your phone may be under "TDoS Attack" your phone company is responsible for stopping this! It's
IMPORTANT
you report it! Then your phone company will block them, and the more people call and complain about it, the more important your phone company will take this matter, and take bigger action to stop and prevent it in future.
3.
Install app to help you Identify, Blocking unwanted numbers and texts.
Here are some apps for you phone you may be able to use...
www.truecaller.com
many say is working great..
Android:
Truecaller - Android
or
Mr. Number-Block calls & spam - Android
or
Nomorobo robocall protection - Android
or
Hiya - Android
Apple:
Truecaller - Apple
or
Robokiller Stop Spam Calls - Apple
or
Nomorobo robocall protection - Apple
or
Hiya - Apple
Apple Info:
Apple setup info about blocking apps
---